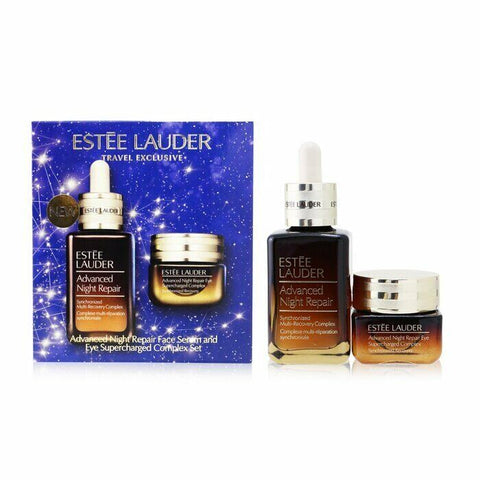 Estee Lauder Advanced Night Repair Set (Serum + Eye Cream) Details:
Serum: Experience the most complete Advanced Night Repair serum yet, the next iteration of our ground-breaking recipe. Patented to 2033. This deep- and quickly-penetrating face serum decreases the appearance of many age indicators brought on by the environmental assaults of contemporary life according to ChronoluxTM Power Signal Technology. Skin seems younger, more vibrant, less lined, smoother, and toned evenly.
Eye Cream: Supercharge your eyes starting tonight for a brighter, more alert eye appearance. In just two weeks, dark circles appear lighter. Reduced lines and other early symptoms of aging in the eyes are seen. Fighting the Visible Effects of Free Radical Damage is a Double Action. Devices' blue light, among other sources, releases free radicals that damage the skin. Our most effective eye cream fights the obvious effects with two strong mechanisms. 
Utilizing the rejuvenating force of the night, Estee Lauder Advanced Night Repair Set produces apparent rejuvenation. It works round-the-clock to support skin's general natural rhythm of healing and defense.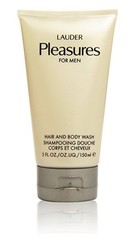 Designer Estee Lauder
Description
Pleasure shampoo by Estee Lauder has a feminine fragrance that reminds of the ravishing scent of flowers after a cloudburst afternoon. A masterpiece created by Annie Buzantian and Alberto Morillas which was introduced in 1995. It is a coalescence of exotic floral petals evoking a unique essence that will surely capture anyone's attention.
Year 1995
Concentration
Age Group
Recommended Use Daytime, Evening
Fragrance Notes
Freesia, Violet, Tuberose, Pink Pepper, Red Berries, Green Notes, Violet Leaf Jasmine, Lilac, Lily, Karo Karounde, Geranium, Lily of the Valley, Rose, Peony Cedar, Musk, Patchouli, Sandalwood
See more products by Estee Lauder
All products are 100% original, authentic name brands.
We do not sell knock-offs or imitations.