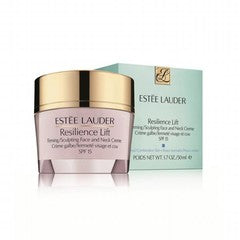 Designer Estee Lauder
Description
Estee Lauder's Resilience Lift neck and face crème serves to create a more lifted and firmer look to a skin that might have lost its firm and developed lines and wrinkles. It comes as either a silky normal skin crème or dry skin crème which is richly nourishing. Apply the smooth scented crème and guarantee yourself a radiant, sculptured, lifted skin with lines and wrinkles all smoothed out. Resilience lift crème is available in two forms; resilience lift for day and resilience lift night. These ensure a 24-hour lift.
Year
Concentration
Age Group
Recommended Use
Fragrance Notes

See more products by Estee Lauder
All products are 100% original, authentic name brands.
We do not sell knock-offs or imitations.