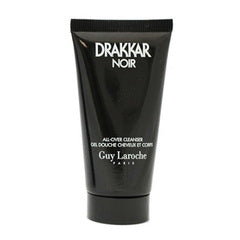 Designer Guy Laroche
Description
A classic dramatic masculine fragrance that brings excitement and a positive vibe in everything that you do courtesy of its exotic masculine aromas. Drakkar Noir Cologne is an aromatic fougere by Guy Laroche in collaboration with popular perfumer Pierre Wargnye that was launched in 1982. Drakkar Noir Shower Gel offers you a refreshing showering experience as the special formula cleanses and rehydrates your skin leaving it all smooth and supple.
Year 1982
Concentration
Age Group
Recommended Use Daytime, Evening
Fragrance Notes
Rosemary, Artemisia, Lavender, Basil, Lemon Verbena, Bergamot, Lemon Coriander, Carnation, Cinnamon, Juniper, Jasmine Leather, Sandalwood, Fir, Amber, Patchouli, Oak Moss, Vetiver, Cedar
See more products by Guy Laroche
All products are 100% original, authentic name brands.
We do not sell knock-offs or imitations.