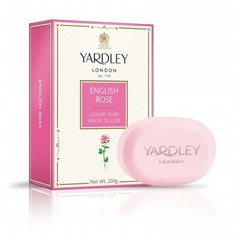 Designer Yardley
Description
Treat yourself to a walk through the beautiful English floral garden with Yardley English Rose Soap. As it gently lathers, cleansing and relaxing your skin, it evokes the classic English fusion of rose, geranium, white flowers and musk that lasts on your skin all day long.
Year
Concentration
Age Group
Recommended Use Daytime, Evening
Fragrance Notes

See more products by Yardley
All products are 100% original, authentic name brands.
We do not sell knock-offs or imitations.