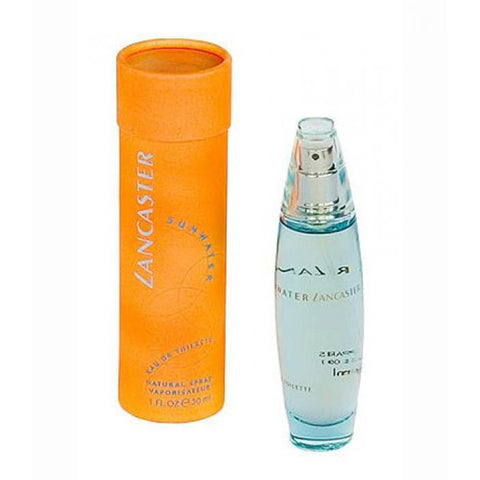 Sale
Designer Lancaster
Description
The fusion of sunshine and refreshing water is captured in Sunwater Perfume by Lancaster. Launched in 1997, this feminine fragrance has been a signature scent of ladies who possess charm and cheerfulness. It opens with bergamot, ylang-ylang and lemon, while the heart is focused on the aroma of Jasmine. The undertone is composed of vetiver, amber and sandalwood.
Year 1997
Concentration
Age Group
Recommended Use Daytime
Fragrance Notes
Lemon, Bergamot, Ylang-Ylang Jasmine Sandalwood, Amber, Vetiver
See more products by Lancaster
All products are 100% original, authentic name brands.
We do not sell knock-offs or imitations.
{"id":1489170366521,"title":"Sunwater by Lancaster","handle":"sunwater-by-lancaster","description":"\u003cdiv class=\"tab-pane active\" id=\"description\" role=\"tabpanel\"\u003e\n\u003cbr\u003e\n\u003cp\u003e\n\u003cstrong\u003eDesigner\u003c\/strong\u003e\n\u003cspan\u003e Lancaster\n\u003c\/span\u003e\n\u003c\/p\u003e\n\u003cbr\u003e\n\u003cp\u003e\n\u003cstrong\u003eDescription\u003c\/strong\u003e\n\u003cbr\u003e\n\u003cspan\u003e The fusion of sunshine and refreshing water is captured in Sunwater Perfume by Lancaster. Launched in 1997, this feminine fragrance has been a signature scent of ladies who possess charm and cheerfulness. It opens with bergamot, ylang-ylang and lemon, while the heart is focused on the aroma of Jasmine. The undertone is composed of vetiver, amber and sandalwood.\n\u003c\/span\u003e\n\u003c\/p\u003e\n\u003cbr\u003e\n\u003cp\u003e\n\u003cstrong\u003eYear\u003c\/strong\u003e\n\u003cspan\u003e 1997\n\u003c\/span\u003e\n\u003c\/p\u003e\n\u003cp\u003e\n\u003cstrong\u003eConcentration\u003c\/strong\u003e\n\u003cspan\u003e\n\u003c\/span\u003e\n\u003c\/p\u003e\n\u003cp\u003e\n\u003cstrong\u003eAge Group\u003c\/strong\u003e\n\u003cspan\u003e\n\u003c\/span\u003e\n\u003c\/p\u003e\n\u003cp\u003e\n\u003cstrong\u003eRecommended Use\u003c\/strong\u003e\n\u003cspan\u003e Daytime\n\u003c\/span\u003e\n\u003c\/p\u003e\n\u003cbr\u003e\n\u003cp\u003e\n\u003cstrong\u003eFragrance Notes\u003c\/strong\u003e\n\u003cbr\u003e\n\u003cspan\u003e Lemon, Bergamot, Ylang-Ylang Jasmine Sandalwood, Amber, Vetiver\n\u003c\/span\u003e\n\u003c\/p\u003e\n\u003cbr\u003e\n\u003cp\u003e\n\u003cstrong\u003eSee more products by\u003c\/strong\u003e\n\u003ca href=\"\/collections\/lancaster\"\u003eLancaster\u003c\/a\u003e\n\u003c\/p\u003e\n\u003cbr\u003e\n\u003cdiv class=\"all-product-text\"\u003e\n \u003cdiv class=\"brand-img\"\u003e\n \u003cimg alt=\"Product banner check icon2\" src=\"https:\/\/cdn.shopify.com\/s\/files\/1\/0128\/1225\/5289\/files\/product_banner_check_icon_36c7e9dc-b00c-48b8-b71b-a05195aecaf2.png?6219805708905573213\"\u003e\n \u003c\/div\u003e\n\u003cdiv class=\"brand-content\"\u003e\n All products are 100% original, authentic name brands.\n \u003cbr\u003e\n We do not sell knock-offs or imitations.\n \u003c\/div\u003e\n \u003c\/div\u003e\n \u003c\/div\u003e","published_at":"2018-07-28T23:43:01-07:00","created_at":"2018-07-28T23:43:05-07:00","vendor":"Luxury Perfumes Inc.","type":"","tags":["brand_Lancaster"],"price":1999,"price_min":1999,"price_max":5699,"available":true,"price_varies":true,"compare_at_price":2998500,"compare_at_price_min":2998500,"compare_at_price_max":8548500,"compare_at_price_varies":true,"variants":[{"id":14311295975481,"title":"3.4 Oz. Eau De Toilette For Women","option1":"3.4 Oz. Eau De Toilette For Women","option2":null,"option3":null,"sku":"#5028","requires_shipping":true,"taxable":true,"featured_image":{"id":5235907002425,"product_id":1489170366521,"position":9,"created_at":"2018-07-28T23:43:05-07:00","updated_at":"2019-10-15T13:19:11-07:00","alt":"Sunwater by Lancaster - Luxury Perfumes Inc. - ","width":600,"height":600,"src":"\/\/luxuryperfume.com\/cdn\/shop\/products\/5028.jpg?v=1571170751","variant_ids":[14311295975481]},"available":false,"name":"Sunwater by Lancaster - 3.4 Oz. Eau De Toilette For Women","public_title":"3.4 Oz. Eau De Toilette For Women","options":["3.4 Oz. Eau De Toilette For Women"],"price":2799,"weight":96,"compare_at_price":4198500,"inventory_management":"shopify","barcode":null,"featured_media":{"alt":"Sunwater by Lancaster - Luxury Perfumes Inc. - ","id":1991448887353,"position":9,"preview_image":{"aspect_ratio":1.0,"height":600,"width":600,"src":"\/\/luxuryperfume.com\/cdn\/shop\/products\/5028.jpg?v=1571170751"}},"requires_selling_plan":false,"selling_plan_allocations":[]},{"id":35898621657252,"title":"1.7 Oz. Unboxed For Women","option1":"1.7 Oz. Unboxed For Women","option2":null,"option3":null,"sku":"#3648","requires_shipping":true,"taxable":true,"featured_image":null,"available":true,"name":"Sunwater by Lancaster - 1.7 Oz. Unboxed For Women","public_title":"1.7 Oz. Unboxed For Women","options":["1.7 Oz. Unboxed For Women"],"price":2199,"weight":96,"compare_at_price":3298500,"inventory_management":"shopify","barcode":null,"requires_selling_plan":false,"selling_plan_allocations":[]},{"id":35898621722788,"title":"0.17 Oz. Mini For Women","option1":"0.17 Oz. Mini For Women","option2":null,"option3":null,"sku":"#2495","requires_shipping":true,"taxable":true,"featured_image":null,"available":true,"name":"Sunwater by Lancaster - 0.17 Oz. Mini For Women","public_title":"0.17 Oz. Mini For Women","options":["0.17 Oz. Mini For Women"],"price":1999,"weight":96,"compare_at_price":2998500,"inventory_management":"shopify","barcode":null,"requires_selling_plan":false,"selling_plan_allocations":[]},{"id":35898621755556,"title":"1.7 Oz. Eau De Toilette For Women","option1":"1.7 Oz. Eau De Toilette For Women","option2":null,"option3":null,"sku":"#1706","requires_shipping":true,"taxable":true,"featured_image":null,"available":false,"name":"Sunwater by Lancaster - 1.7 Oz. Eau De Toilette For Women","public_title":"1.7 Oz. Eau De Toilette For Women","options":["1.7 Oz. Eau De Toilette For Women"],"price":2699,"weight":96,"compare_at_price":4048500,"inventory_management":"shopify","barcode":null,"requires_selling_plan":false,"selling_plan_allocations":[]},{"id":35898621788324,"title":"1.0 Oz. Eau De Toilette For Women","option1":"1.0 Oz. Eau De Toilette For Women","option2":null,"option3":null,"sku":"#663","requires_shipping":true,"taxable":true,"featured_image":null,"available":false,"name":"Sunwater by Lancaster - 1.0 Oz. Eau De Toilette For Women","public_title":"1.0 Oz. Eau De Toilette For Women","options":["1.0 Oz. Eau De Toilette For Women"],"price":2899,"weight":96,"compare_at_price":4348500,"inventory_management":"shopify","barcode":null,"requires_selling_plan":false,"selling_plan_allocations":[]},{"id":35898621821092,"title":"3.4 OZ 2 pcs gift set for Women","option1":"3.4 OZ 2 pcs gift set for Women","option2":null,"option3":null,"sku":"#2583","requires_shipping":true,"taxable":true,"featured_image":null,"available":false,"name":"Sunwater by Lancaster - 3.4 OZ 2 pcs gift set for Women","public_title":"3.4 OZ 2 pcs gift set for Women","options":["3.4 OZ 2 pcs gift set for Women"],"price":5699,"weight":96,"compare_at_price":8548500,"inventory_management":"shopify","barcode":"3.41E+12","requires_selling_plan":false,"selling_plan_allocations":[]},{"id":35898621853860,"title":"3.4 OZ 3 pcs gift set for Women","option1":"3.4 OZ 3 pcs gift set for Women","option2":null,"option3":null,"sku":"#2584","requires_shipping":true,"taxable":true,"featured_image":null,"available":false,"name":"Sunwater by Lancaster - 3.4 OZ 3 pcs gift set for Women","public_title":"3.4 OZ 3 pcs gift set for Women","options":["3.4 OZ 3 pcs gift set for Women"],"price":5499,"weight":96,"compare_at_price":8248500,"inventory_management":"shopify","barcode":"3.41E+12","requires_selling_plan":false,"selling_plan_allocations":[]}],"images":["\/\/luxuryperfume.com\/cdn\/shop\/products\/663.jpg?v=1571170751","\/\/luxuryperfume.com\/cdn\/shop\/products\/1706.jpg?v=1571170751","\/\/luxuryperfume.com\/cdn\/shop\/products\/1706B.jpg?v=1571170751","\/\/luxuryperfume.com\/cdn\/shop\/products\/2495.jpg?v=1571170751","\/\/luxuryperfume.com\/cdn\/shop\/products\/3648B.jpg?v=1571170751","\/\/luxuryperfume.com\/cdn\/shop\/products\/5028_3d754006-3aa0-4094-8a4a-b769aaf31541.jpg?v=1571170751","\/\/luxuryperfume.com\/cdn\/shop\/products\/5028B.jpg?v=1571170751","\/\/luxuryperfume.com\/cdn\/shop\/products\/1706_e3a08699-64fc-4aeb-ab33-7e85dc1eccb3.jpg?v=1571170751","\/\/luxuryperfume.com\/cdn\/shop\/products\/5028.jpg?v=1571170751","\/\/luxuryperfume.com\/cdn\/shop\/products\/1default_0e3bfc6d-e2d0-46b5-bc9e-188c686f42c8.png?v=1582220561","\/\/luxuryperfume.com\/cdn\/shop\/products\/1default_78c00459-fd99-4159-b55d-0df640a45c7e.png?v=1582440914","\/\/luxuryperfume.com\/cdn\/shop\/products\/1default_7b5380d2-df7a-4d0e-b42c-cbab353b51c6.png?v=1582440930"],"featured_image":"\/\/luxuryperfume.com\/cdn\/shop\/products\/663.jpg?v=1571170751","options":["Size"],"media":[{"alt":"Sunwater by Lancaster - Luxury Perfumes Inc. - ","id":1991448625209,"position":1,"preview_image":{"aspect_ratio":1.0,"height":600,"width":600,"src":"\/\/luxuryperfume.com\/cdn\/shop\/products\/663.jpg?v=1571170751"},"aspect_ratio":1.0,"height":600,"media_type":"image","src":"\/\/luxuryperfume.com\/cdn\/shop\/products\/663.jpg?v=1571170751","width":600},{"alt":"Sunwater by Lancaster - Luxury Perfumes Inc. - ","id":1991448657977,"position":2,"preview_image":{"aspect_ratio":1.0,"height":600,"width":600,"src":"\/\/luxuryperfume.com\/cdn\/shop\/products\/1706.jpg?v=1571170751"},"aspect_ratio":1.0,"height":600,"media_type":"image","src":"\/\/luxuryperfume.com\/cdn\/shop\/products\/1706.jpg?v=1571170751","width":600},{"alt":"Sunwater by Lancaster - Luxury Perfumes Inc. - ","id":1991448690745,"position":3,"preview_image":{"aspect_ratio":1.0,"height":600,"width":600,"src":"\/\/luxuryperfume.com\/cdn\/shop\/products\/1706B.jpg?v=1571170751"},"aspect_ratio":1.0,"height":600,"media_type":"image","src":"\/\/luxuryperfume.com\/cdn\/shop\/products\/1706B.jpg?v=1571170751","width":600},{"alt":"Sunwater by Lancaster - Luxury Perfumes Inc. - ","id":1991448723513,"position":4,"preview_image":{"aspect_ratio":1.0,"height":600,"width":600,"src":"\/\/luxuryperfume.com\/cdn\/shop\/products\/2495.jpg?v=1571170751"},"aspect_ratio":1.0,"height":600,"media_type":"image","src":"\/\/luxuryperfume.com\/cdn\/shop\/products\/2495.jpg?v=1571170751","width":600},{"alt":"Sunwater by Lancaster - Luxury Perfumes Inc. - ","id":1991448756281,"position":5,"preview_image":{"aspect_ratio":1.0,"height":600,"width":600,"src":"\/\/luxuryperfume.com\/cdn\/shop\/products\/3648B.jpg?v=1571170751"},"aspect_ratio":1.0,"height":600,"media_type":"image","src":"\/\/luxuryperfume.com\/cdn\/shop\/products\/3648B.jpg?v=1571170751","width":600},{"alt":"Sunwater by Lancaster - Luxury Perfumes Inc. - ","id":1991448789049,"position":6,"preview_image":{"aspect_ratio":1.0,"height":600,"width":600,"src":"\/\/luxuryperfume.com\/cdn\/shop\/products\/5028_3d754006-3aa0-4094-8a4a-b769aaf31541.jpg?v=1571170751"},"aspect_ratio":1.0,"height":600,"media_type":"image","src":"\/\/luxuryperfume.com\/cdn\/shop\/products\/5028_3d754006-3aa0-4094-8a4a-b769aaf31541.jpg?v=1571170751","width":600},{"alt":"Sunwater by Lancaster - Luxury Perfumes Inc. - ","id":1991448821817,"position":7,"preview_image":{"aspect_ratio":1.0,"height":600,"width":600,"src":"\/\/luxuryperfume.com\/cdn\/shop\/products\/5028B.jpg?v=1571170751"},"aspect_ratio":1.0,"height":600,"media_type":"image","src":"\/\/luxuryperfume.com\/cdn\/shop\/products\/5028B.jpg?v=1571170751","width":600},{"alt":"Sunwater by Lancaster - Luxury Perfumes Inc. - ","id":1991448854585,"position":8,"preview_image":{"aspect_ratio":1.0,"height":600,"width":600,"src":"\/\/luxuryperfume.com\/cdn\/shop\/products\/1706_e3a08699-64fc-4aeb-ab33-7e85dc1eccb3.jpg?v=1571170751"},"aspect_ratio":1.0,"height":600,"media_type":"image","src":"\/\/luxuryperfume.com\/cdn\/shop\/products\/1706_e3a08699-64fc-4aeb-ab33-7e85dc1eccb3.jpg?v=1571170751","width":600},{"alt":"Sunwater by Lancaster - Luxury Perfumes Inc. - ","id":1991448887353,"position":9,"preview_image":{"aspect_ratio":1.0,"height":600,"width":600,"src":"\/\/luxuryperfume.com\/cdn\/shop\/products\/5028.jpg?v=1571170751"},"aspect_ratio":1.0,"height":600,"media_type":"image","src":"\/\/luxuryperfume.com\/cdn\/shop\/products\/5028.jpg?v=1571170751","width":600},{"alt":null,"id":5811525222457,"position":10,"preview_image":{"aspect_ratio":1.0,"height":225,"width":225,"src":"\/\/luxuryperfume.com\/cdn\/shop\/products\/1default_0e3bfc6d-e2d0-46b5-bc9e-188c686f42c8.png?v=1582220561"},"aspect_ratio":1.0,"height":225,"media_type":"image","src":"\/\/luxuryperfume.com\/cdn\/shop\/products\/1default_0e3bfc6d-e2d0-46b5-bc9e-188c686f42c8.png?v=1582220561","width":225},{"alt":null,"id":5816758501433,"position":11,"preview_image":{"aspect_ratio":1.0,"height":225,"width":225,"src":"\/\/luxuryperfume.com\/cdn\/shop\/products\/1default_78c00459-fd99-4159-b55d-0df640a45c7e.png?v=1582440914"},"aspect_ratio":1.0,"height":225,"media_type":"image","src":"\/\/luxuryperfume.com\/cdn\/shop\/products\/1default_78c00459-fd99-4159-b55d-0df640a45c7e.png?v=1582440914","width":225},{"alt":null,"id":5816758960185,"position":12,"preview_image":{"aspect_ratio":1.0,"height":225,"width":225,"src":"\/\/luxuryperfume.com\/cdn\/shop\/products\/1default_7b5380d2-df7a-4d0e-b42c-cbab353b51c6.png?v=1582440930"},"aspect_ratio":1.0,"height":225,"media_type":"image","src":"\/\/luxuryperfume.com\/cdn\/shop\/products\/1default_7b5380d2-df7a-4d0e-b42c-cbab353b51c6.png?v=1582440930","width":225}],"requires_selling_plan":false,"selling_plan_groups":[],"content":"\u003cdiv class=\"tab-pane active\" id=\"description\" role=\"tabpanel\"\u003e\n\u003cbr\u003e\n\u003cp\u003e\n\u003cstrong\u003eDesigner\u003c\/strong\u003e\n\u003cspan\u003e Lancaster\n\u003c\/span\u003e\n\u003c\/p\u003e\n\u003cbr\u003e\n\u003cp\u003e\n\u003cstrong\u003eDescription\u003c\/strong\u003e\n\u003cbr\u003e\n\u003cspan\u003e The fusion of sunshine and refreshing water is captured in Sunwater Perfume by Lancaster. Launched in 1997, this feminine fragrance has been a signature scent of ladies who possess charm and cheerfulness. It opens with bergamot, ylang-ylang and lemon, while the heart is focused on the aroma of Jasmine. The undertone is composed of vetiver, amber and sandalwood.\n\u003c\/span\u003e\n\u003c\/p\u003e\n\u003cbr\u003e\n\u003cp\u003e\n\u003cstrong\u003eYear\u003c\/strong\u003e\n\u003cspan\u003e 1997\n\u003c\/span\u003e\n\u003c\/p\u003e\n\u003cp\u003e\n\u003cstrong\u003eConcentration\u003c\/strong\u003e\n\u003cspan\u003e\n\u003c\/span\u003e\n\u003c\/p\u003e\n\u003cp\u003e\n\u003cstrong\u003eAge Group\u003c\/strong\u003e\n\u003cspan\u003e\n\u003c\/span\u003e\n\u003c\/p\u003e\n\u003cp\u003e\n\u003cstrong\u003eRecommended Use\u003c\/strong\u003e\n\u003cspan\u003e Daytime\n\u003c\/span\u003e\n\u003c\/p\u003e\n\u003cbr\u003e\n\u003cp\u003e\n\u003cstrong\u003eFragrance Notes\u003c\/strong\u003e\n\u003cbr\u003e\n\u003cspan\u003e Lemon, Bergamot, Ylang-Ylang Jasmine Sandalwood, Amber, Vetiver\n\u003c\/span\u003e\n\u003c\/p\u003e\n\u003cbr\u003e\n\u003cp\u003e\n\u003cstrong\u003eSee more products by\u003c\/strong\u003e\n\u003ca href=\"\/collections\/lancaster\"\u003eLancaster\u003c\/a\u003e\n\u003c\/p\u003e\n\u003cbr\u003e\n\u003cdiv class=\"all-product-text\"\u003e\n \u003cdiv class=\"brand-img\"\u003e\n \u003cimg alt=\"Product banner check icon2\" src=\"https:\/\/cdn.shopify.com\/s\/files\/1\/0128\/1225\/5289\/files\/product_banner_check_icon_36c7e9dc-b00c-48b8-b71b-a05195aecaf2.png?6219805708905573213\"\u003e\n \u003c\/div\u003e\n\u003cdiv class=\"brand-content\"\u003e\n All products are 100% original, authentic name brands.\n \u003cbr\u003e\n We do not sell knock-offs or imitations.\n \u003c\/div\u003e\n \u003c\/div\u003e\n \u003c\/div\u003e"}